Adam and Stanridge are currently featured in the Russian magazine
Cyclepedia
. For those of us who aren't so lucky to be familiar with the Russian language, Adam's transcript of the interview is below.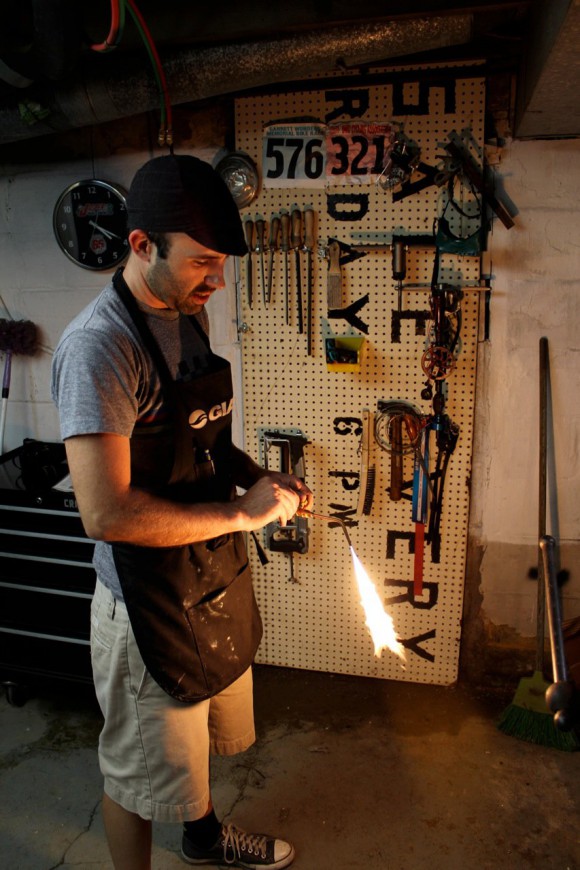 1) First, please introduce yourself. Your age, where are you from.
My name is Adam Eldridge. Started life in Germany and traveled with family around the USA as a child. After graduation from University I continued to travel from state to state with my first employer. Columbus, Ohio has been my home for 4.5 years. This is the longest amount of time I have lived in one place. Columbus is my home now. I just turned 34.
2) How did you started build frames? Is this business for you or just hobby?
Mechanical objects have always caught my attention. I was the kid that was always making stuff. No game consoles for me growing up. I was always planning and building treehouses, making forts out of huge cardboard boxes, making models and remote control airplanes. Getting older it turned into bikes and vehicles. My father and I were always working on a projects, A vintage Camaro, A GTO. A couple years later the obsession with vehicles turned to BMW. I started working on a older 318 and landed a job with a NA based GT3 BMW SCCA team. I was using my degree creating advertising campaigns for the retail side of the team and on my off time race prepping a M3 for the track. Later, while working in a local bike shop as a General Manager I acquired a Vivalo. The Vivalo really opened my eyes and senses to a true hand crafted machine. I was deep into NJS and Kierin at the time. I found myself enveloped with the respect paid to the Japanese master builders. The pageantry and traditions surrounding Kierin in Japan spoke to me. I learned from an american builder named Doug Fattic. He taught me brazing skills. Now the bicycle frame building supports me. There are no other source of income. I've built for 3 years part time and full time for 6 months.
3) Describe your work process. Which materials do you use for frames, which tubes? And why exactly? Any secrets or tips for guys who want to start their similar business?
Stanridge builds with steel. Many different types of steel have been used. Choosing the wall thickness and butt profiles and tube shapes helps the frame cope with intended use. Various tubes react differently to rider weight and wattage produced by the rider.
Frame building is tough. Not only does one need to have the skills necessary to build a frame - one must also know how to run a business. Take baby steps. Find outside money or marry rich. It's easy to slack off at your day job, one understands a check will come weekly. If you slack off doing your own thing you're not going to be eating.
Luckily, I took the business route in University. As with any business the saying goes "If it were easy everyone would do it."
I'm not a Bohemian. I'm not planning on building just enough frames to grow my garden and drink kombucha tea. I want to grow the brand develop a 2nd tier line and provide jobs to folks here in Columbus. Building one-off custom frames is not a sustainable business model. This is why you see business savvy builders extending their reach and digging into other markets. R. Sachs knows whats up. Ira Ryan, Vanilla (speedvagen).. they're all going the semi production route by accepting a shit ton of "pre-orders" in stock geo to create liquidity and busting them out... I'm diggin' this.
4) We saw different kinds of bikes on your site. Road bike (on modern and oldschool components, city bike and fixed gear of course). If it's not difficult for you please describe every project in a bit (we saw 4 bikes).
Woah! This is an overreaching question! Come on Alex! Let's talk about the HSP. The HSP really struck a nerve with people all around the world.
I was getting comfortable with fillet braze construction and wanted to really go after the vision in my head. The Cinelli Laser Air was my inspiration. 300 were made in the early 80's. Such a radical machine. I like to think of pursuits as "F1 Bikes" purpose built machines of speed, highly uncomfortable yet bearable enough to take out on a Sunday morning. Like an F1 racing car.. get it?
So on the prototype I wanted to use 700C wheels, utilize a BB30 shell, hide the seat post and keep the geometry within UCI specs. Why design a illegal track bike? Over the holiday of last year I was looking though a hotrod car book and noticed a killer paint scheme on a car designed to go fast on the bonneville salt flats. I modified the design and had it painted on the steel frame and carbon fork.
So the rest is history. I built it and sent it around the USA to be ridden and photographed by all the guys at the top of their game in the blogging world.
5) We love your logo! Who designed it? Few words about it.
My good friend David Butler (
artofthemidwest.com
). Thanks, he really knocked it out of the park.. Why? He's a bike nut. He truly understands the brand, the ascetic and the general cycling culture. I built him my first Track bike and soon my first single speed 29'er. He's taking the 29'er to Ireland to the Single Speed World Challenge.
6) Good prices for bikes! Is it possible to order bike and deliver to Russia, somebody of our readers might be interesting in buying.
They're going up at the end of the month! Let's not talk about how my labor per hour breaks down. Thank you for the compliment. Yes, I ship bikes around the world. The internet is a beautiful thing. It connected you and I through a typed handshake.
7) Do you love sports? Do you training on bikes? Which type of bikes do you prefer: road or track? Any favorite cyclists? Are you ready to watch The Tour.
I've got to pull myself from eurosport every morning. The Tour is killing my productivity. It really upset my ex last year when I filled up the DVR with Tour Stages. I ride a bike everyday. I train three days a week. I race road and crit here in the US. Right now I'm gunning for Evans in the tour!
I've played sports my whole life. Soccer for 13 years. Track and Cross Country through primary, middle and high school.